Bluetooth">
Bluetooth technology is a forthcoming wireless personal area networking (WPAN) technology that has gained significant industry support and will coexist with most wireless LAN solutions. The Bluetooth specification is for a 1 Mbps, small form-factor, low-cost radio solution that can provide links between mobile phones, mobile computers and other portable handheld devices and connectivity to the internet. This technology, embedded in a wide range of devices to enable simple, spontaneous wireless connectivity is a complement to wireless LANs - which are designed to provide continuous connectivity via standard wired LAN features and functionality.
WLAN Configuration
The simplest WLAN configuration is an independent (or peer-to-peer) WLAN that connects a set of PCs with wireless adapters. Any time two or more wireless adapters are within range of each other, they can set up an independent network (Figure 3). These on-demand networks typically require no administration or preconfiguration.

Figure 3.
Independent WLAN
Access points can extend the range of independent WLANs by acting as a repeater (see Figure 4), effectively doubling the distance between wireless PCs.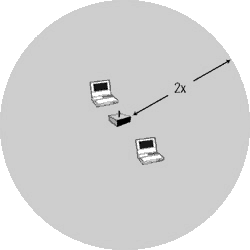 Figure 4. Extended-Range Independent WLAN Using Access Point as Repeater
In infrastructure WLANs, multiple access points link the WLAN to the wired network and allow users to efficiently share network resources. The access points not only provide communication with the wired network but also mediate wireless network traffic in the immediate neighborhood. Multiple access points can provide wireless coverage for an entire building or campus.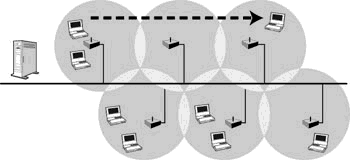 Figure 5. Infrastructure WLAN
Next: "WLAN Configuration: Microcells and Roaming"